A Warm & Inspiring Welcome
Your Child Has Both The Freedom & Support To Grow Happy & Confident
A Warm& Inspiring Welcome
Your Child Has Both The Freedom & Support To Grow Happy & Confident
In Montessori, Preschool & Kindergarten Students Age 3-6 Explore & Learn Together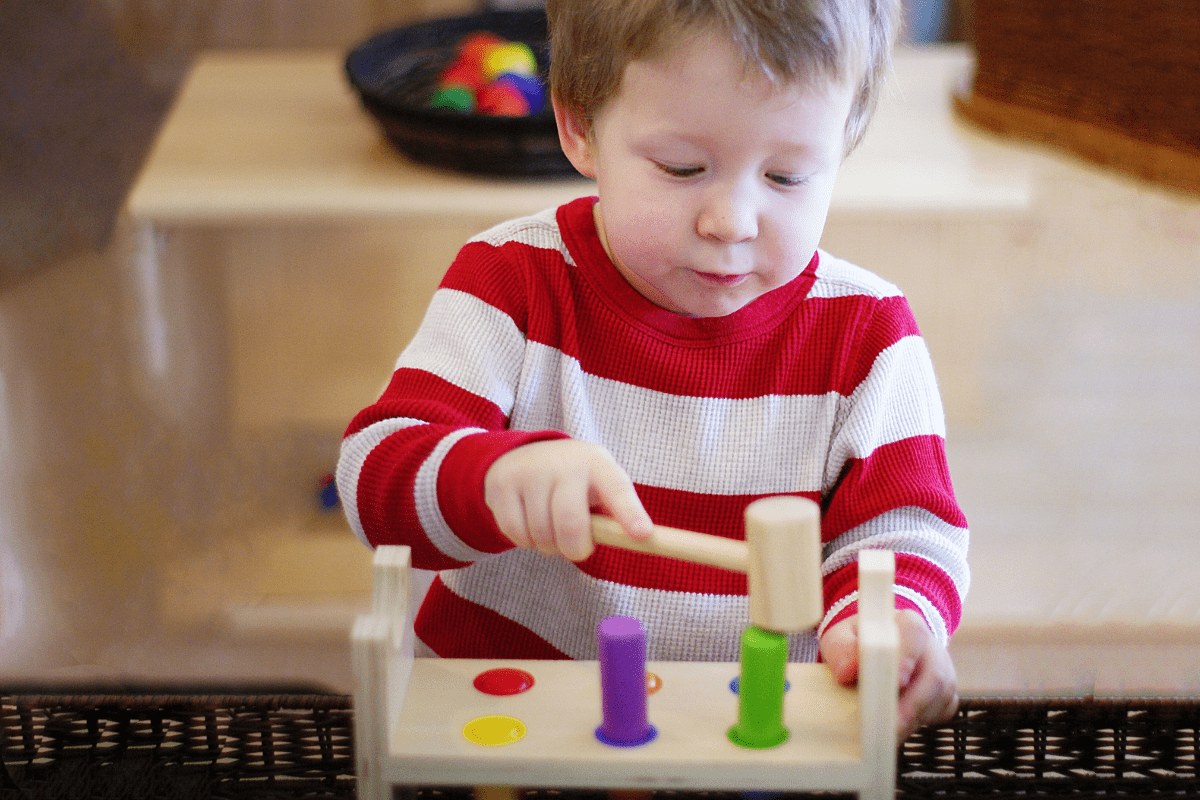 Montessori Nurtures Your Preschool Child's Personality
In an authentic Montessori preschool, the world-renowned Montessori Method supports, guides, and develops your child's unique interests and intellect through active exploration. Watch as your little learner develops confidence through investigation and discovery.
Montessori-Trained Teachers Offer Personalized Attention
Your child's lead teacher holds a Montessori certification and a degree in Early Childhood Education. These passionate educators get to know each student in their small group and offers individualized guidance for a successful Montessori kindergarten experience.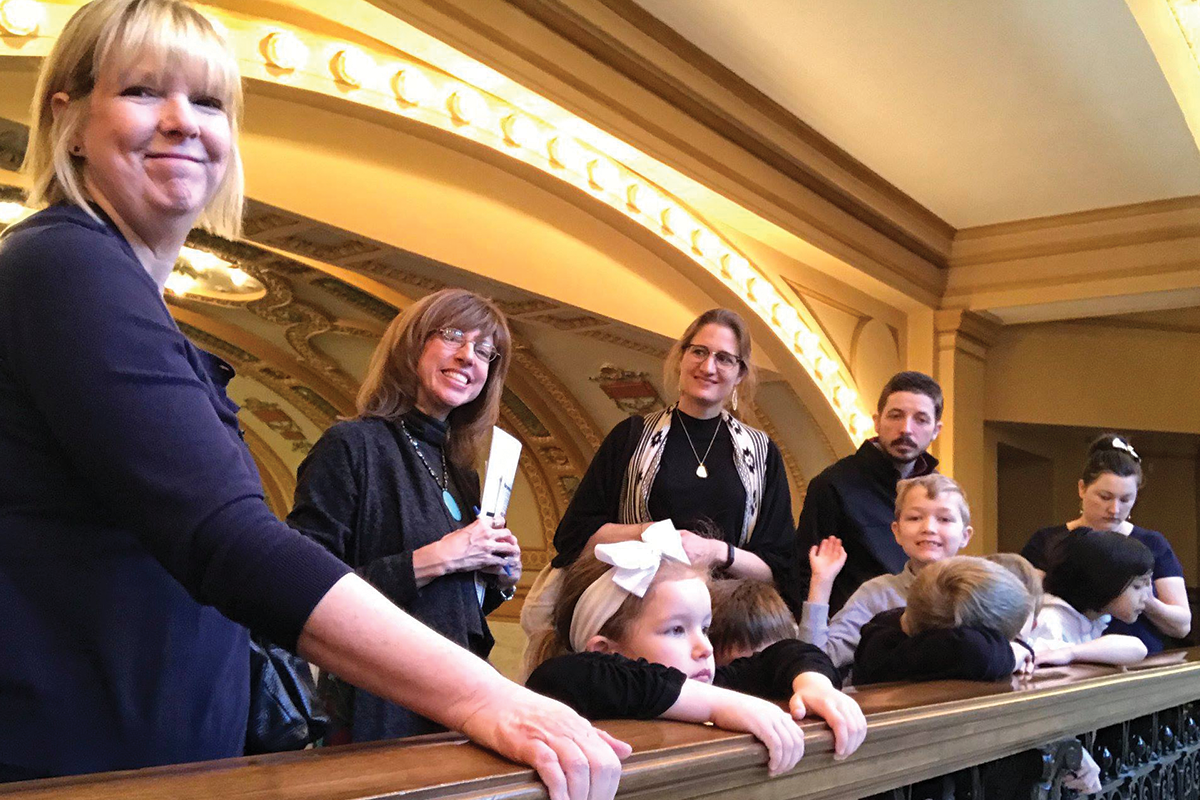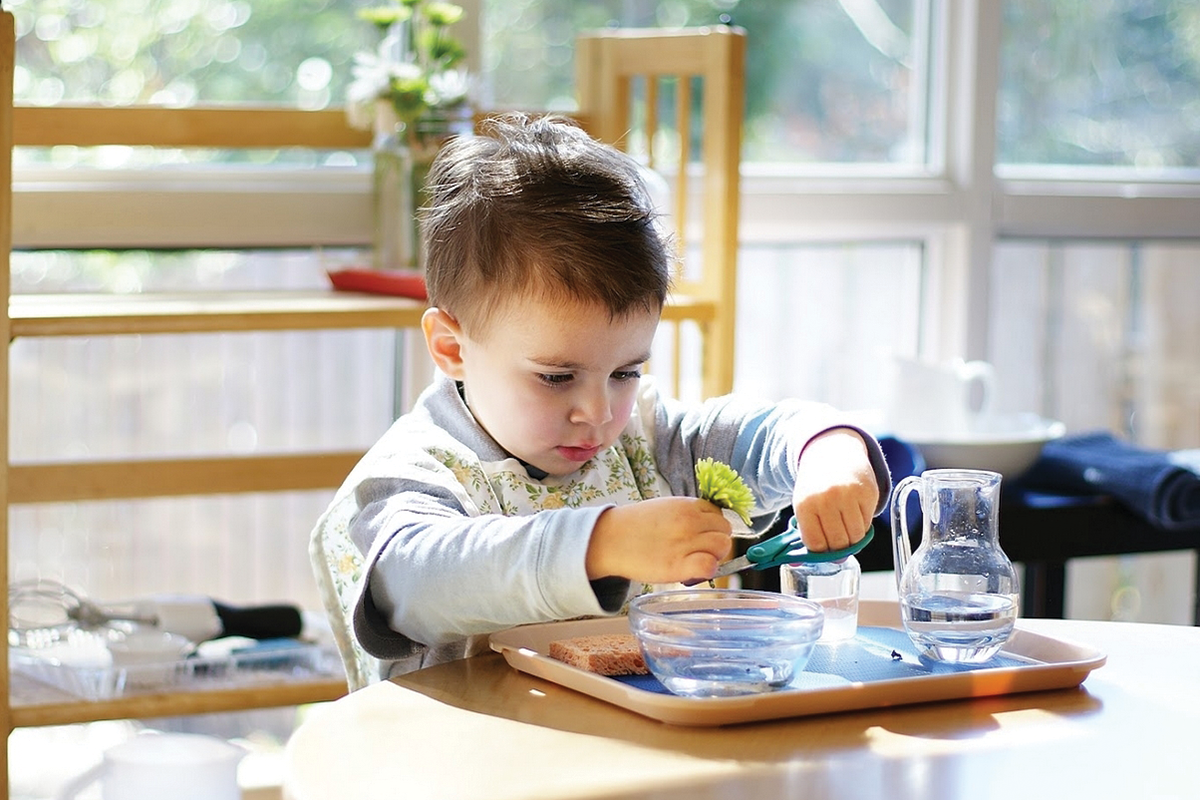 The Prepared Environment Encourages Exploration
Naturally lit with soothing tones, Montessori preschool classrooms foster focus. Your child accesses activities arranged in order on low shelves so they can build concentration, coordination, and independence as they explore math, language, science, cultural studies, geography, art, and music.
Montessori Materials Help Your Child's Growth Mindset
Your child gets to grips with Montessori materials specially designed to be self-correcting, so your child learns how to learn—exploring, hypothesizing, and experimenting until they master each task and progress to the next.
In their primary years, your child encounters Montessori materials, including: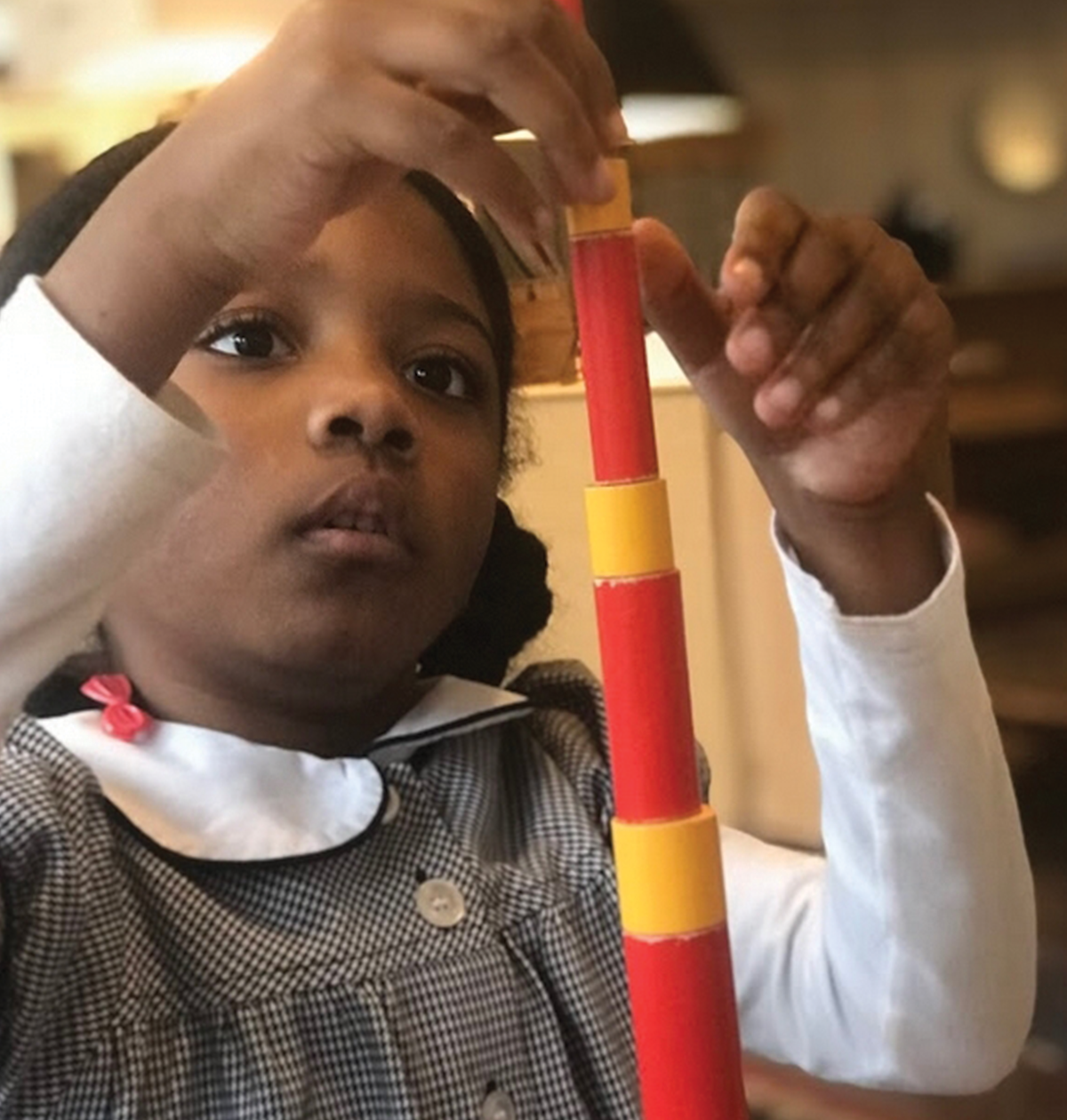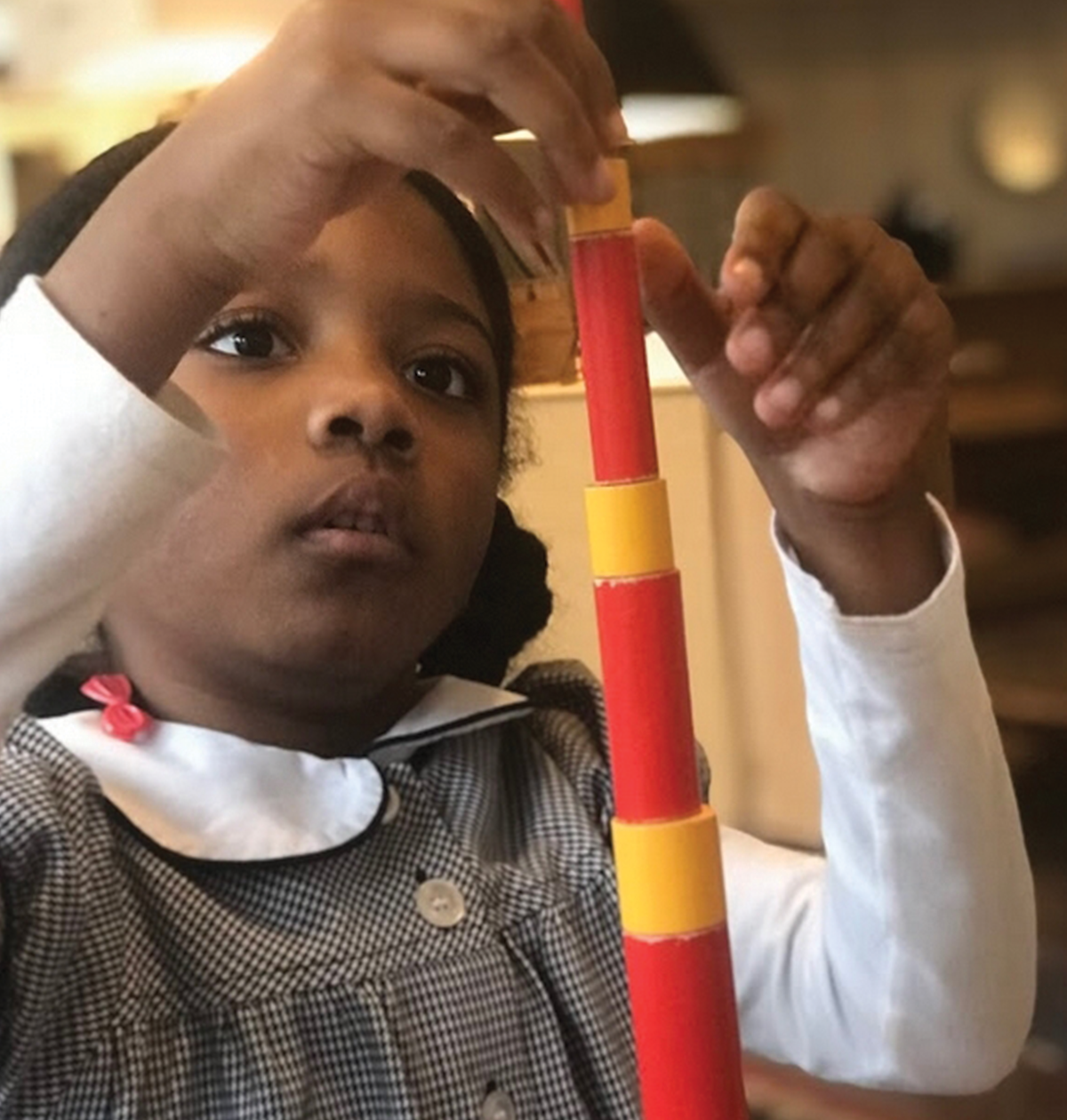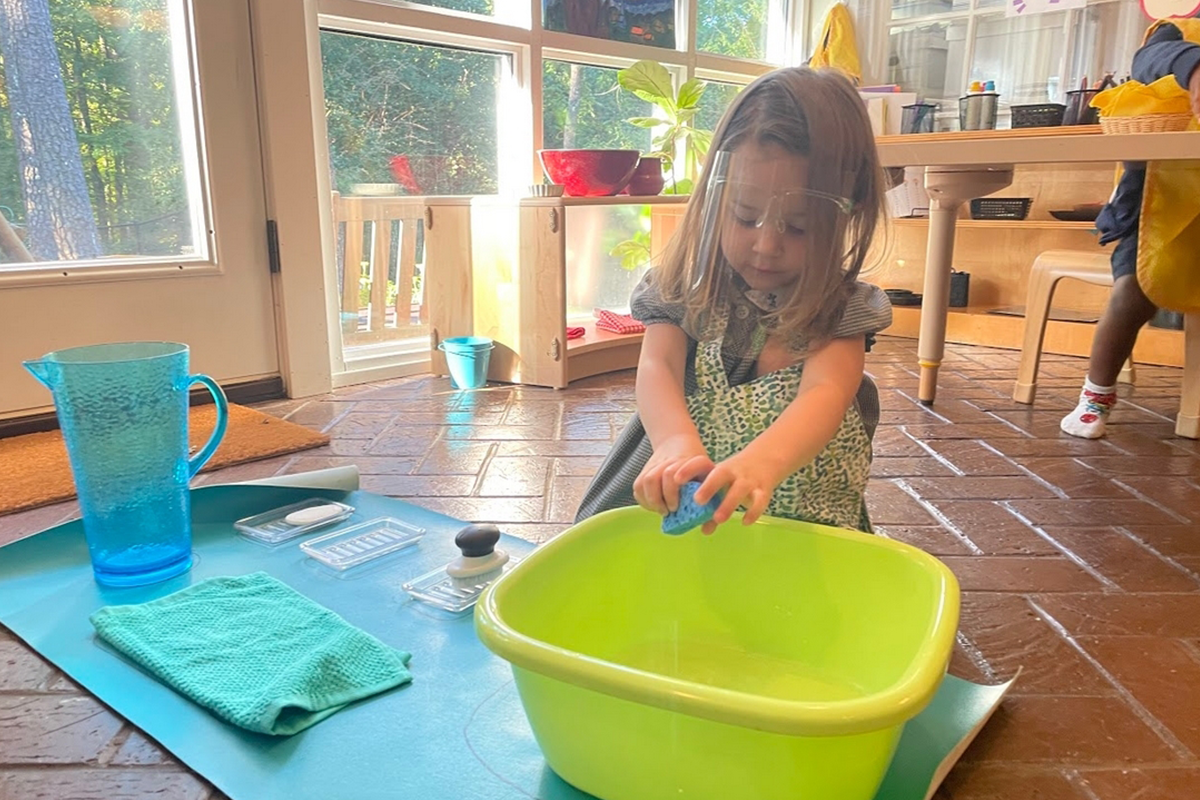 Ready For Kindergarten With Practical Life Skills
Your child practices functional tasks to care for their environment and themself. As they tidy up their space, master buttoning, tying, and dressing, and serve food to their friends, they feel a sense of pride and accomplishment they carry into the future.
Grace And Courtesy Flourish In The Montessori Kindergarten Environment
The Montessori community promotes respect for self and others, taking turns, and cooperation. Your child builds empathy and care with guidance from loving teachers and develops into a happy, poised classroom citizen in kindergarten and beyond.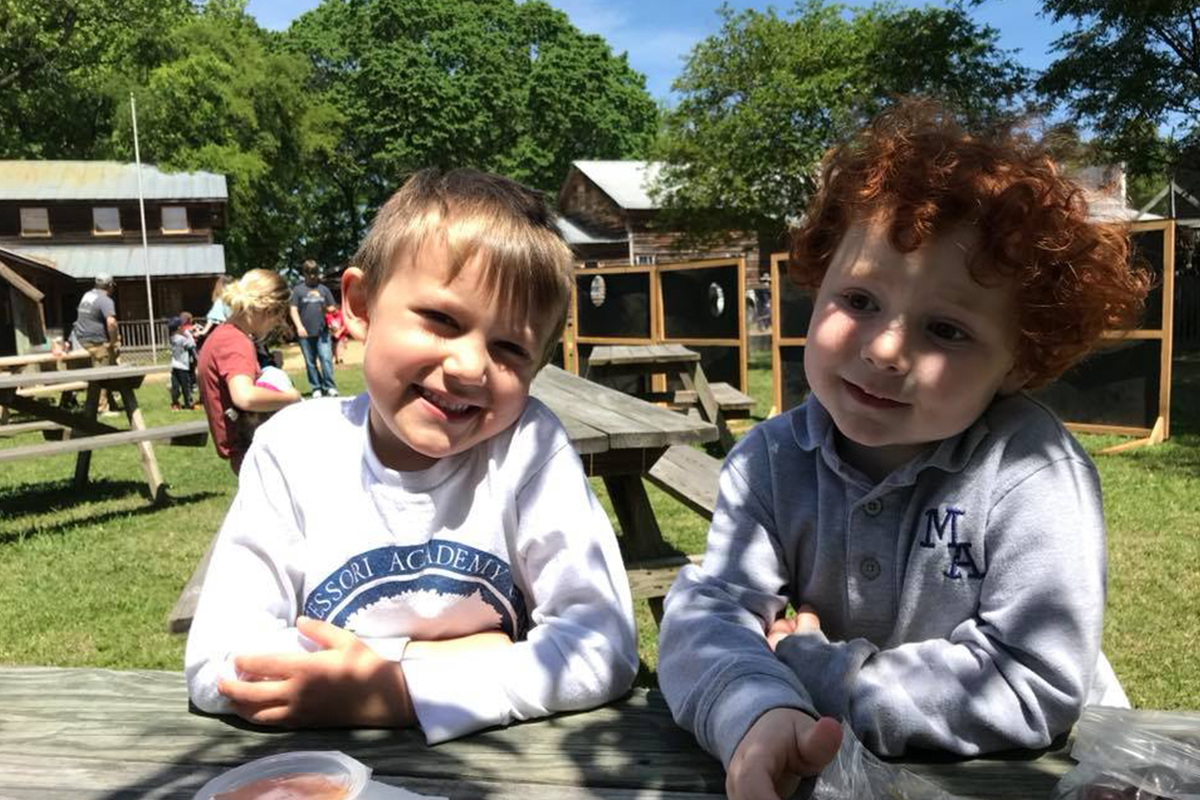 Mixed-Age Classes Foster Early Leadership Skills
In a classroom of students aged 3 to 6 years, your child is always learning from their peers. At preschool age, they look up to older children. At kindergarten age, they learn responsibility looking after the little ones and demonstrating activities.
Yoga & Music Enrichments For A Private Kindergarten Experience
Included in your tuition, yoga classes help develop your child's mind and body. Daily classroom music sessions with xylophones, glockenspiels, and drums help them self-express. Plus, Spanish lessons boost their communication skills, giving them a private kindergarten experience.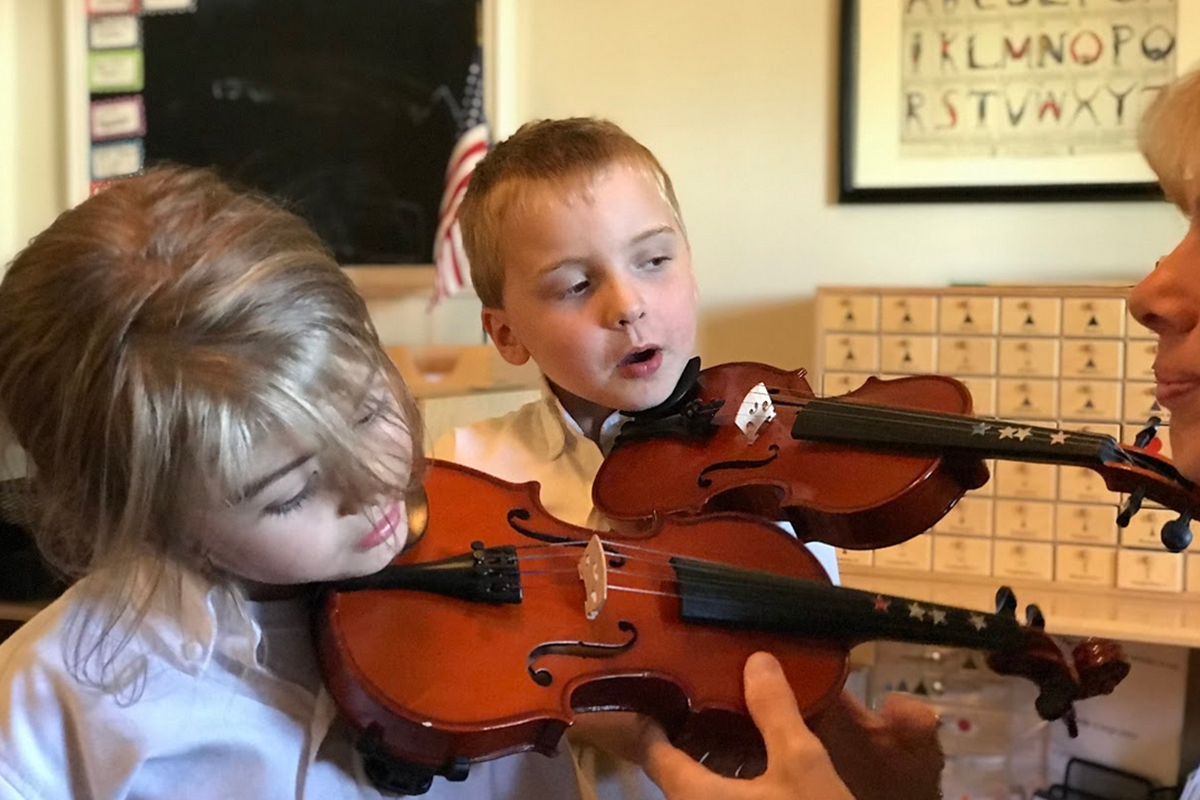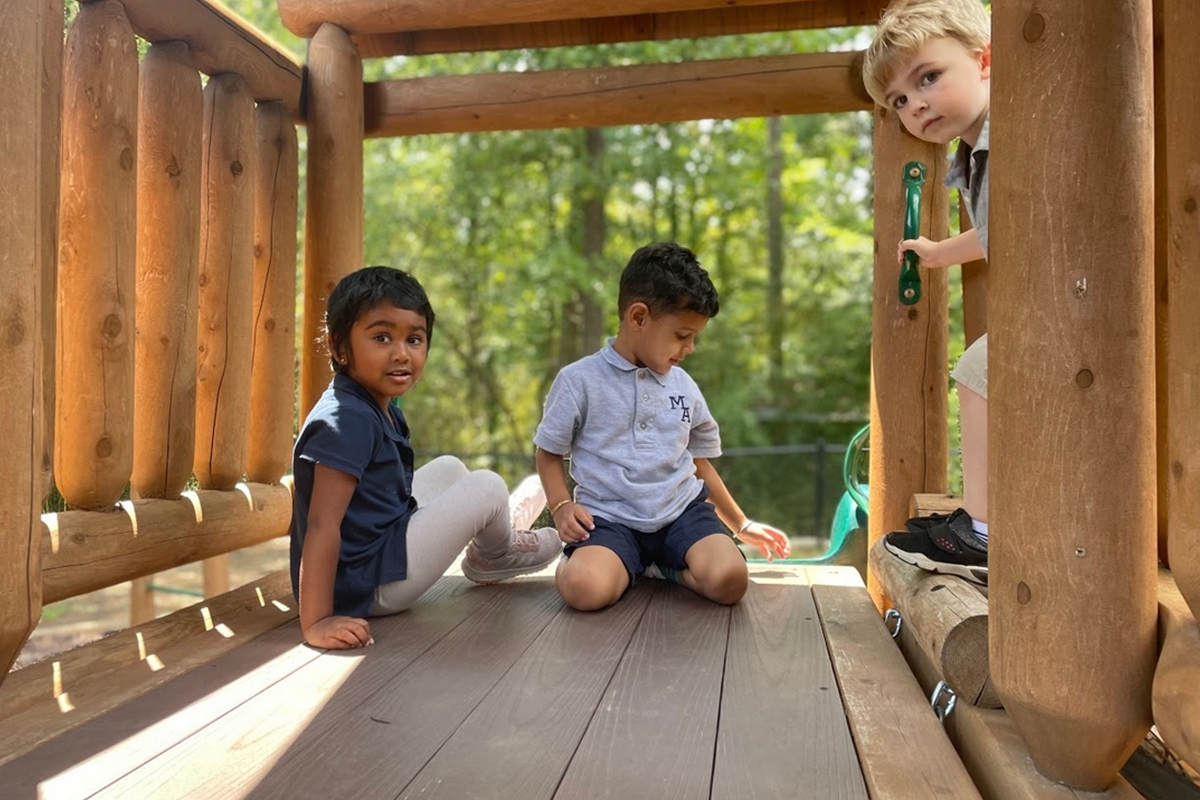 Outdoor Play For Fun With Friends & Fresh Air
Connecting with nature is crucial for healthy development. Your child enjoys more time than average outdoors in a private kindergarten than is afforded in public schools. They climb a beautiful cedar structure to build coordination, and exercise their growing social skills.
Healthy Lunch & Snack Included Every Day
A dedicated cook prepares your child's tasty, nutritious food onsite every day in a nut-free environment. Focusing on organic ingredients with lots of fruit and vegetables keeps your child happy, healthy, and energized.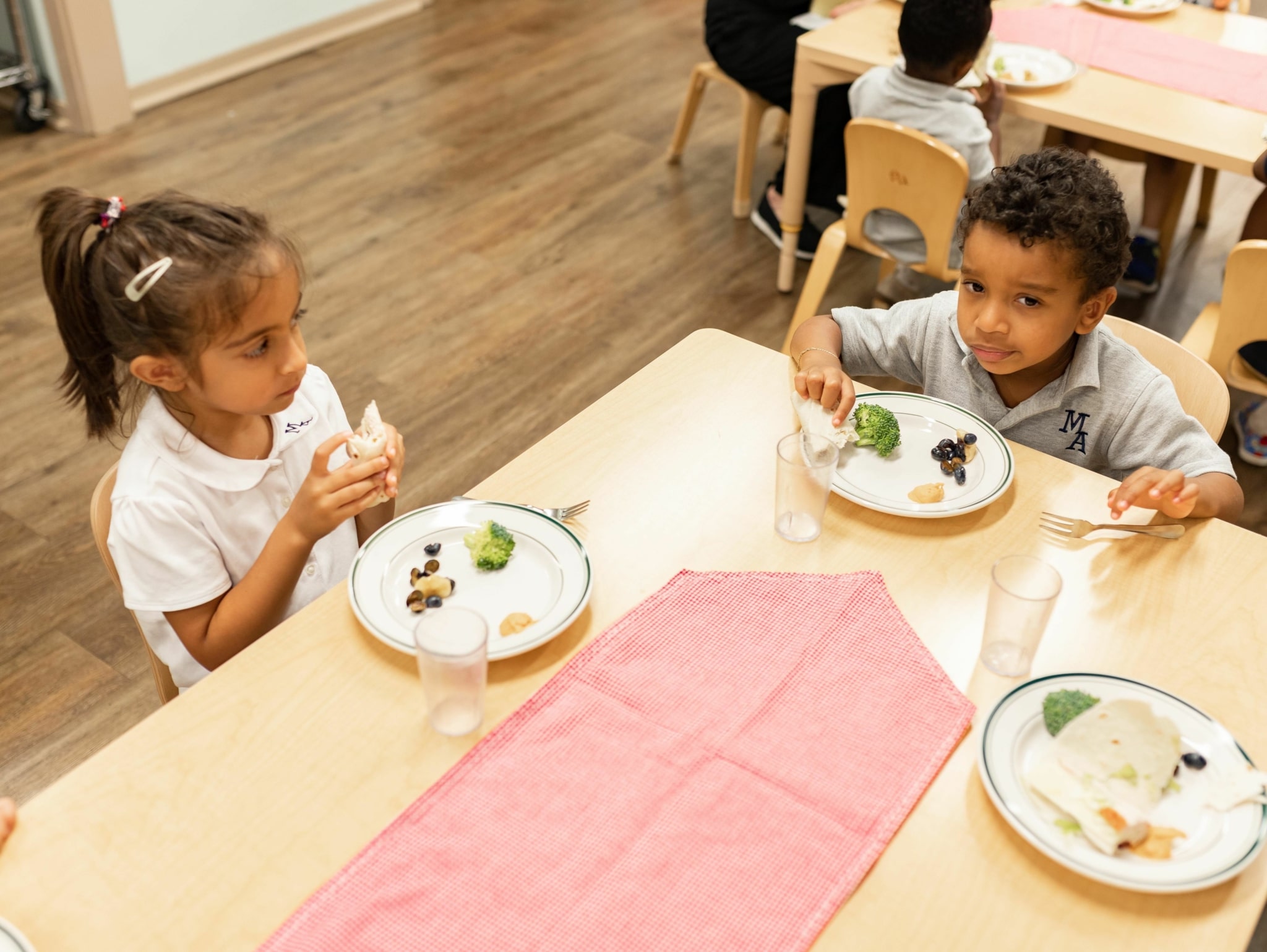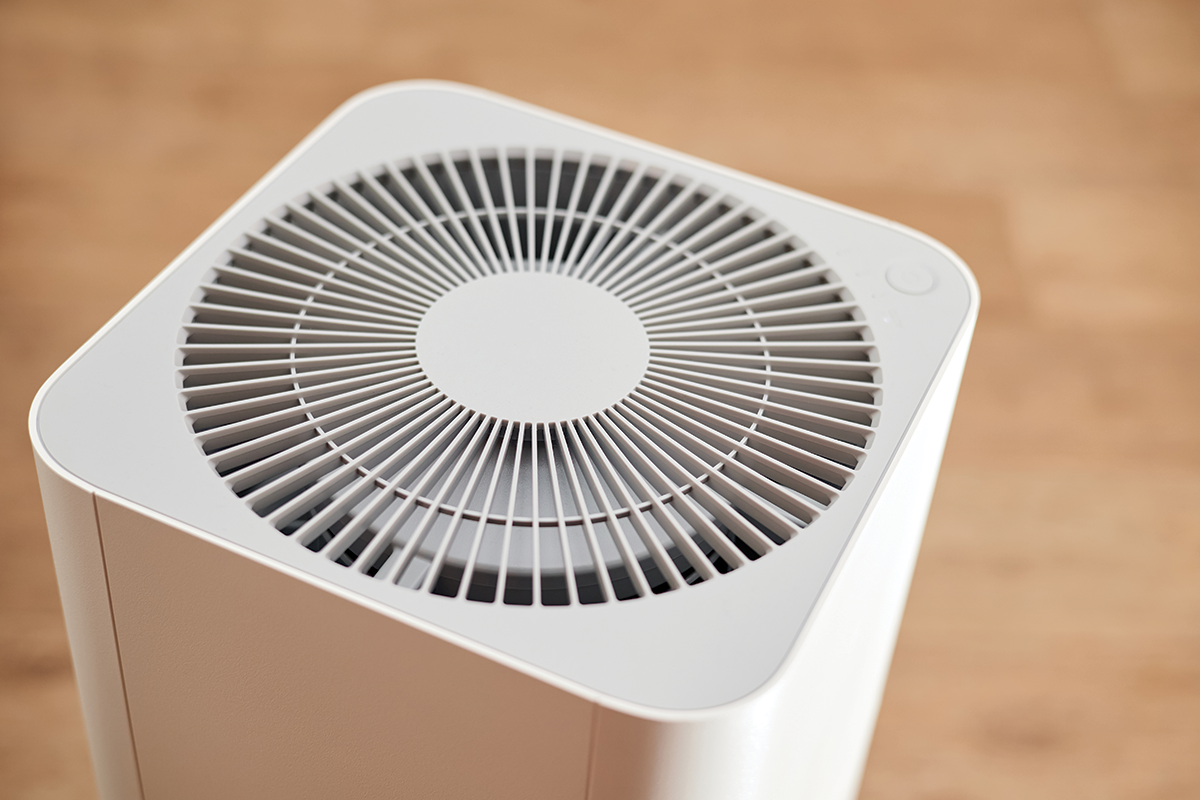 Air Purifiers & More Keep Little Immune Systems Strong
Your child stays healthy in a sparkling clean environment. Air purifiers clear potentially harmful particles including pollen, bacteria, and viruses and professional cleaners sanitize classrooms regularly.
Strict Safety Measures For Your Peace Of Mind
Restricted access controls secure entryways and ensure only people with authorization are on site. A secure fence surrounds the yard. Rest assured your child is safe and sound in the care of CPR-certified teachers.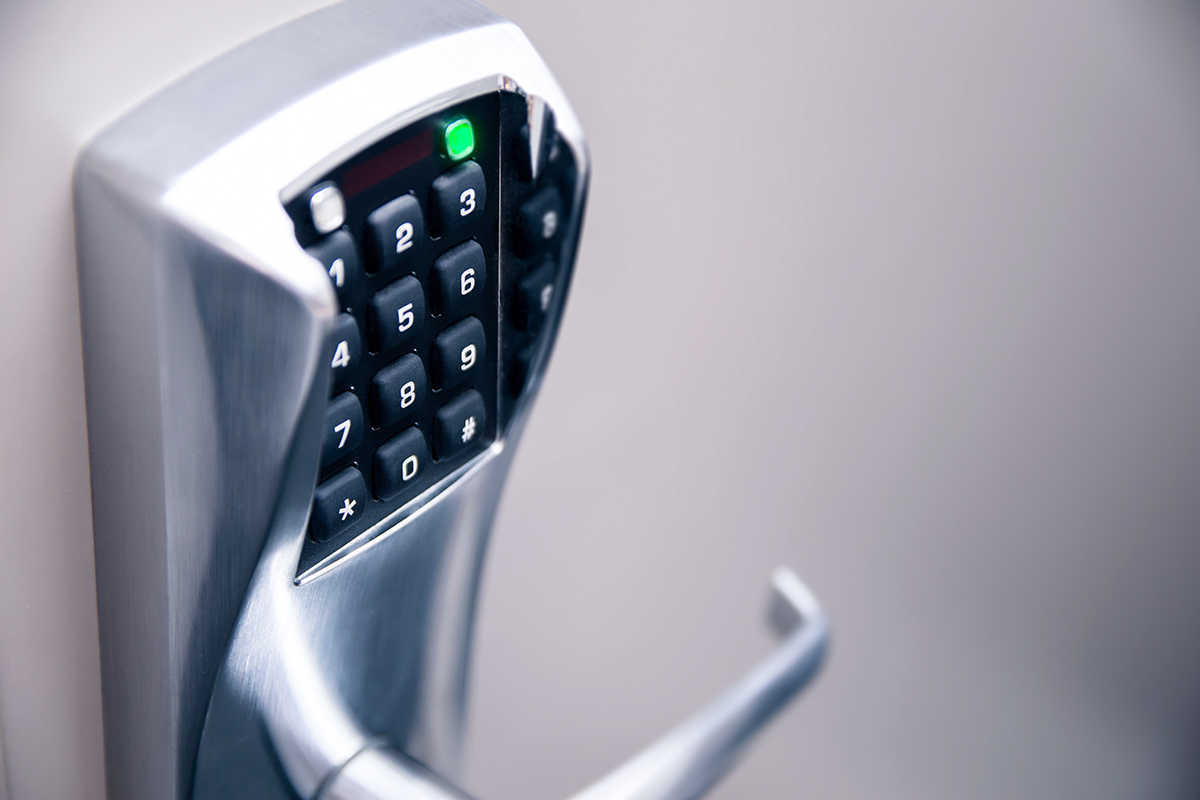 Hear What Parents Have To Say...

"The MAoJ community has provided my children with the education I longed for "
Academic excellence, personal kindness, and an awareness of the rich tapestry of the world in culture, community and materials. Joyce Moxley has led the community with grace and an incredible vision for an education that truly leads to a brighter, more peaceful and more amazing future.
- Laura Christel Lavallee Horlings

"They communicate honestly with me and I never am concerned about my children."
They encourage my children to use their words, to explore their passions and never be scared to try new things. They lead the children with so much love and honesty. My children come home everyday proud of what they have done at the Academy. There is a true community and the teachers at the school are truly the most amazing women that enrich my family's life.
- Jeannie Aldy

"MAOJ is not just benefiting our kids... it has helped our family grow as a whole."
To illustrate the level of commitment here, childcare is offered during these evenings to make sure that busy parents like us are able to attend, learning and sharing our experiences with parenting philosophies, our household organization, our personal growth as parents, and ways in which we can can more effectively communicate, interact, and discipline our children.
- Jay Songcharoen

"I continue to be amazed at the integrated nature of the curriculum."
Ancient cultures, fine arts, ecology, inclusiveness, astronomy and so many more areas are integrated. The boys talk about things that I didn't hear about until much later in my education. The parents are actively involved with each other as well. I am glad they are able to have this immersive experience.
- Hugh Parker

"I have full confidence that they have our children's best interests in mind."
My two children have had a wonderful experience at this school! The warm community supports the children and their families in all aspects of growth. The children are learning how to be independent, caring citizens.
- Sharon Hong
A Lifelong Passion For Learning!